IntelliDOT understands how our brains perceive light. Though ambient lighting may change drastically, IntelliDOT maintains ideal reticle brightness seamlessly.
How it Works: An ambient light sensor, specifically tuned for the human eye, continually measures light at your target. Data collected by this sensor is used to make imperceptible adjustments to the reticle's intensity so that it appears to remain the same intensity, even in changing light. For example, if you're in a dimly lit room then transition outside into full sun, it will seem as if your reticle never changes intensity, yet remains perfectly bright. That's the magic of IntelliDOT!
Personalized Intensity
If you prefer brighter or dimmer reticle than the one chosen by IntelliDOT, you can specify an Intensity Offset for IntelliDOT to use when calculating your reticle's intensity, so it's always just the way you like it.
Settings Menu & SecureTaps
Buttons on reflex sights are notoriously prone to failure, and are intrusion points for water and dirt. The RX-795, however, utilizes an accelerometer to detect movement when you tap and tilt it, so buttons are unnecessary.
Unlike most tap-controlled devices that cannot differentiate accidental from intentional taps, each tap to access the Cuda Settings Menu must pass a security check. We call these SecureTaps.
With SecureTaps, changes in light detected by the light sensor are paired with motion detected by the accelerometer to form a unique a "key" to unlock the Settings Menu. This gives you peace of mind that your settings can never be accidentally altered through normal use.
Auto & On-Demand Battery Level Check & Diagnostics
Each time the RX-795 begins to power down, it automatically performs a set of thorough diagnostic tests to ensure it's in tip-top shape for the next time you need it. Tests are conducted on the LED, light sensor, motion sensor, and battery.
You can also perform a manual battery test and diagnostics at any time. Tests results are indicated by a combination of audible tones and reticle flashes.
Instant On / Enhanced Off
The RX-795 is ready when you are. An accelerometer within the sight detects change in motion, so it knows when it's being used and when it's idle. Simply pick up the RX-795 from an idle state and it will instantly turn on. To turn it off, just set it down and keep it idle.
Typically, reflex sights with auto-off capabilities take several minutes to shut down wasting precious battery life. We've enhanced the powering off process so the RX-795 turns off in only two seconds! This default behavior, however, can be extended to 10 minutes within the Settings Menu.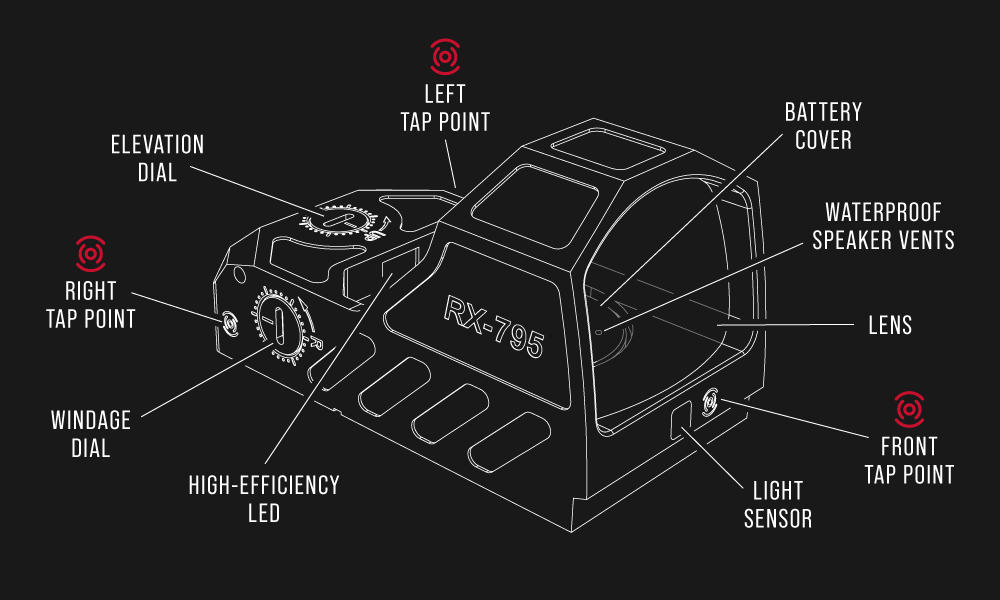 Cuda ClearVision
Competitive shooters and home/self-defense enthusiasts understand the need for fast target acquisition, and so do we! That's why our engineers have developed our Cuda ClearVision standards. We want nothing to stand in the way of acquiring your target.
Visual artifacts caused by ambient light bouncing off surfaces and back into the lens of an open reflex sight can disorient the user and make target acquisition difficult. We've engineered the RX-795 to significantly minimize artifacts so you can always stay on target.
Reflex sight lenses contain special coatings that increase the intensity of the reflected reticle and reduce the need for brighter, more power-hungry LEDs. Unfortunately, the result can be a lens that appears more colored than clear glass. The RX-795 , however, features a high-efficiency LED to project its reticle. Therefore, unnecessary coatings have been removed. This provides you with a clearer sight picture without greatly impacting your battery life.
Poorly engineered reflex sights may have you feeling as if you're looking through a fisheye lens or at a funhouse mirror. But Cuda sight lenses are manufactured to very precise specifications for low distortion to keep your sight picture true.
Parallax occurs when the position of an object appears to change when viewed from a different line of sight. In a reflex sight, parallax can mean the difference between missing or making your shots.
Many reflex sight manufacturers claim their sights are parallax-free up to a certain distance. But we know that's simply not true. By design, reflex sights work by viewing a target through a curved lens, so some parallax is inevitable. Our engineers, however, have meticulously designed the RX-795 lens so that parallax should never be a problem.
Specifications
(1) CR1632 lithium battery (included)
1.93 x 1.06 x 1.14 in / 49 x 27 x 29 mm
Windage/Elevation Adjustments:
Cuda RX-795 Reflex Sight
$399.99
Notify me when this product becomes available.
What's in the Box
(1) Cuda RX-795 reflex sight, (1) Picatinny mounting plate, (4) mounting screws, (1) quickstart guide, (1) user manual, (1) microfiber lens cloth, (1) CR1632 lithium coin battery, (1) torx wrench, (1) multi-tool