The most important thing about a red dot sight is the dot.
IntelliDOT updates your reticle's intensity 10x a second by continually measuring light at your target. So if you're in a dimly lit room then transition outside into full sun, it will seem as if your reticle never changes intensity, yet remains perfectly bright. That's the magic of IntelliDOT!
SecureTaps
Once you go buttonless, you'll never go back.
The RX-795 is completely buttonless. Instead, an internal accelerometer detects motion when you tap on the housing.
SecureTaps are used to enter/exit the Settings menu. Simple gestures such as Tap, Hold & Release and Tilt & Tap are used to select and modify options.
Battery Check & Diagnostics
Don't wonder about your battery level. Know it.
Automatic tests are performed on the battery, LED, and light and motion sensors before every shutdown. Manual tests can be performed anytime with a just few simple taps.
Personalized Intensity
Select your ideal intensity. Then set it and forget it.
Prefer a brighter or dimmer reticle than the one calculated by IntelliDOT? Specify an Intensity Offset. It'll stay just how you like it no matter what lighting condition you're in.
Prefer a reticle that is brighter/dimmer than the one calculated by IntelliDOT? Specify an Intensity Offset and your dot will automatically adjust to your personal intensity in every lighting environment.
Instant On / Enhanced Shutoff
Turns on when you're using it; turns off when you're not.
Automatically turns off when you set it down or have it holstered at your side. Instantly turns on when you pick it up.
Micro Speaker Audio
Audible feedback via beeps and chimes.
Features a micro speaker for low-battery alerts, diagnostic test results, and confirmations while in the Settings menu. (Audio can be disabled.)
Cuda Settings Menu
Learn everything there is to know about the CUDA Settings menu and how to use its four selectable options in our complete video guide.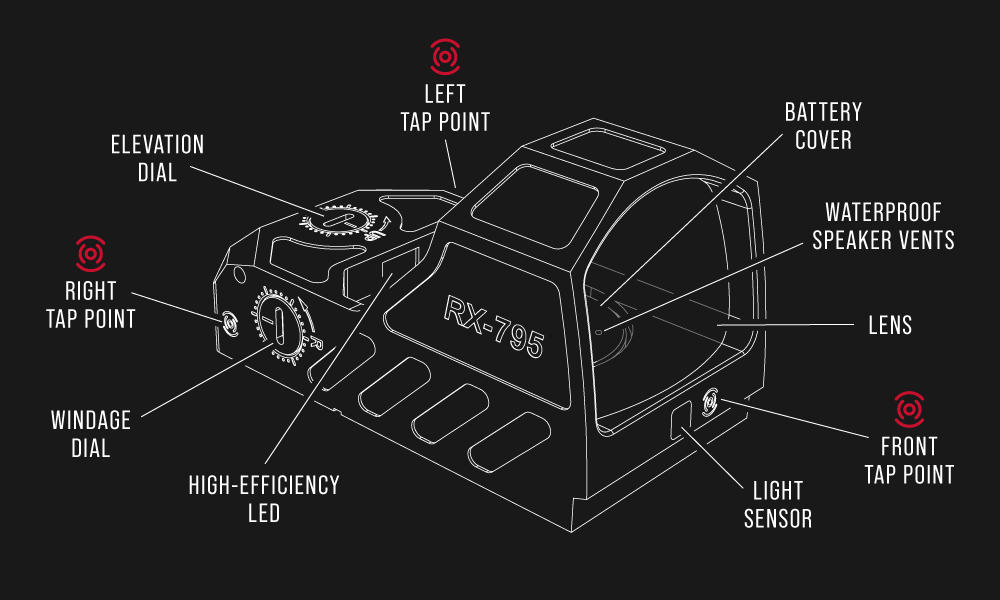 Cuda ClearVision
Competitive shooters and home/self-defense enthusiasts understand the need for fast target acquisition, and so do we! That's why our engineers have developed our CUDA ClearVision standards. We want nothing to stand in the way of acquiring your target.
Visual artifacts caused by ambient light bouncing off surfaces and back into the lens of an open reflex sight can disorient the user and make target acquisition difficult. We've engineered the RX-795 to significantly minimize artifacts so you can always stay on target.
Reflex sight lenses contain special coatings that increase the intensity of the reflected reticle and reduce the need for brighter, more power-hungry LEDs. Unfortunately, the result can be a lens that appears more colored than clear glass. The RX-795 , however, features a high-efficiency LED to project its reticle. Therefore, unnecessary coatings have been removed. This provides you with a clearer sight picture without greatly impacting your battery life.
Poorly engineered reflex sights may have you feeling as if you're looking through a fisheye lens or at a funhouse mirror. But CUDA sight lenses are manufactured to very precise specifications for low distortion to keep your sight picture true.
Parallax occurs when the position of an object appears to change when viewed from a different line of sight. In a reflex sight, parallax can mean the difference between missing or making your shots.
Many reflex sight manufacturers claim their sights are parallax-free up to a certain distance. But we know that's simply not true. By design, reflex sights work by viewing a target through a curved lens, so some parallax is inevitable. Our engineers, however, have meticulously designed the RX-795 lens so that parallax should never be a problem.
Specifications
(1) CR1632 lithium battery (included)
1.93 x 1.06 x 1.14 in / 49 x 27 x 29 mm
Windage/Elevation Adjustments: